Help Conserve a Local Historical & Cultural Treasure by Voting for Our Endangered Artifact!
Vote Daily Feb 20- March 3, 2023
Your votes will help Rocktown History receive from $250 to $1000 for conservation care.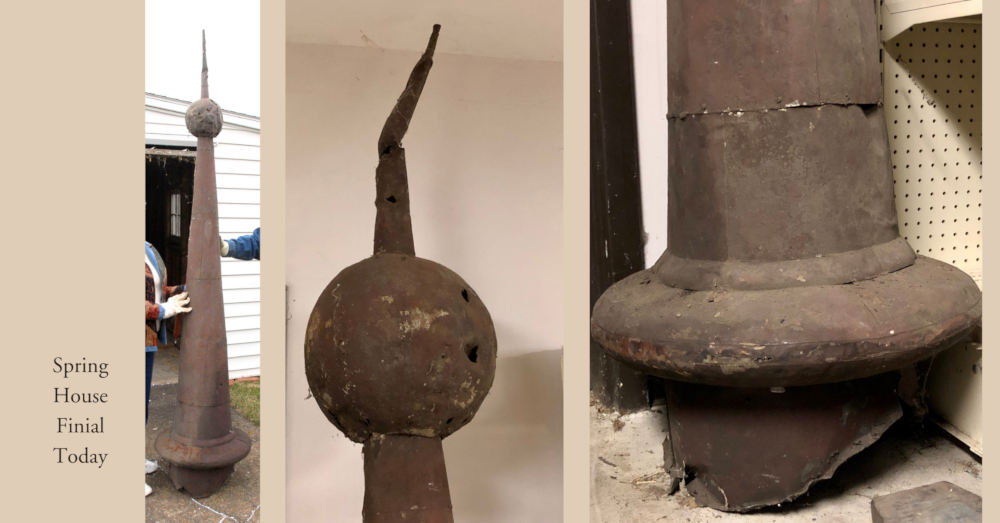 The 191-year-old finial is an 8-foot-high piece of architectural decor that once sat on the dome roof of the old Spring House on Court Square in Harrisonburg, Virginia. Constructed from soldered sheet steel, the finial was rusted and in poor condition when it was donated, and it has been awaiting attention in Rocktown History's collection storage. The conical top end is bent, and the bottom is jagged. There are also holes in the metal. The finial will continue to deteriorate without conservation, and pursuing conservation requires expertise.
On August 5, 1779, Harrisonburg founders Thomas and Sarah Harrison deeded 2.5 acres of land, which included the Big Spring, as a site for public buildings, including a courthouse, for the seat of Rockingham County. The spring house stood on the corner of Court Square from 1832-1905 and became an iconic symbol of Harrisonburg— to such an extent, that a replica was erected in 1995.
As an object lesson, the finial references stories broader than Harrisonburg's founding document and lends itself to connecting students and visitors to Harrisonburg-Rockingham history. Potential themes include natural resources, everyday life of diverse community members, witness to war, and change within the town across time.
The Virginia Association of Museums' Virginia's Top 10 Endangered Artifacts program identifies significant, endangered artifacts in the care of museums, historic sites, and other collecting institutions across the Commonwealth of Virginia and Washington, D.C., and creates awareness of their importance as well as the expense of their stewardship.
A partner panel of conservators and collections care experts from the Library of Virginia, Preservation Virginia, Virginia Conservation Association, Virginia Department of Historic Resources, and a private conservator have selected the 2023 Honorees following a competitive review process.
It's now time for YOU to help award $4,000 in funding to help conserve Virginia's most endangered historic and cultural treasures!