Lucy Frances Simms Celebration
Tuesday, October 27, 2020, 7-8:30 pm, Zoom Webinar
The Northeast Neighborhood Association and Rocktown History hosted a celebration of the legacy of Miss Lucy F. Simms and the release of the first biography on Harrisonburg's most famous educator. The public was invited to join a Zoom webinar on Tuesday, October 27, at 7:00 – 8:30 pm, for an evening with honored guest speakers, music, and film in memory of Miss Simms and her lifetime of unparalleled community leadership.
Featured speakers included the Honorable Jennifer McClellan, Senator, 9th District of the Commonwealth of Virginia; Dr. Edward Scott, Associate Professor of Philosophy, Mary Baldwin University; Ms. Karen Thomas, President of the Northeast Neighborhood Association; and Mr. Dale MacAllister, Author and Resident Historian for Rocktown History.
Born into slavery just a few years before the Civil War, in freedom Miss Simms chose a path of public service, traveling across the state to earn her teaching credentials at Hampton Institute, and then returning to the Shenandoah Valley where she spent nearly six decades guiding generations of African-American children in the Harrisonburg and Rockingham County community.
Although the better part of a century has passed since her death, the accolades continue for this pioneering educator whose strength of character and leadership provide a powerful story that continues to resonate today. When the Virginia Emancipation Proclamation and Freedom Monument is installed in Richmond, Miss Simms will be one of ten Virginians honored on the base of the sculpture.
This short film was adapted from Dale MacAllister's new biography and contains several historic and contemporary photos that are featured in the book. The film was created to be a classroom resource that can be used with students from various subject-areas and grade-levels.
"This biography profiles her life against the highly textured times that enveloped it. If circumstances seemed to conspire against her every initiative, in the end Lucy rose in quiet triumph." – Rev. Dr. Edward A. Scott, Associate Professor of Philosophy, Mary Baldwin University and Pastor, Allen Chapel AME Church, Staunton, Virginia.
"Lucy Frances Simms: From Slavery to Revered Public Service will serve as a vital source for future generations to learn about her life and legacy. It gives African Americans of the Shenandoah Valley of Virginia and across the nation an example of strength and resilience that will surely inspire Americans of every ethnic and political background for centuries to come." – Karen M. Thomas, Founder and President, Northeast Neighborhood Association, Harrisonburg, Virginia.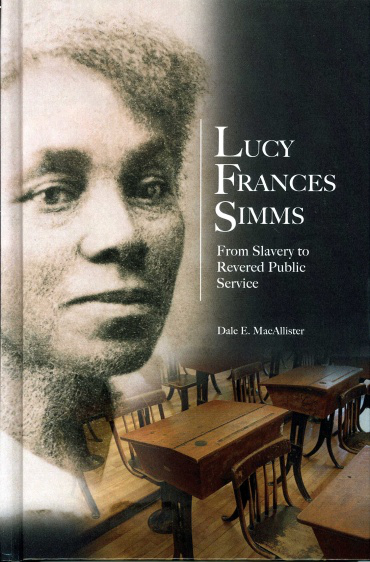 Hardback $32; launch price $27 (limited quantities)
Paperback $22; launch price $18
Stop in the Rocktown History Bookstore in Dayton or order online.